5 Cool ways to use the Chromecast Extension

Cool Chromecast Extension uses
Now that you have the Chromecast Extension installed, it's time to take advantage of it.  Below are 5 different things you can do with the Google Cast extension you may not know were possible.
1 – Use VidCast to cast almost any web video to your TV
Do you often browse sites like Vimeo, Buzzfeed, TED, Dailymotion or Funny or Die?  I'm sure you wish that the Android or iOS app for each of these sites supported the Chromecast.  Since they don't, you can use VidCast to cast videos from these sites to your Chromecast.  To do this, head over to https://dabble.me/cast/ and drag the VidCast bookmarklet to your bookmarks bar in Chrome.  After you have added the bookmark, browse to one of your favorite videos sites that doesn't support the Chromecast.  Start playing a video then click the VidCast bookmark.  This will open up the video in a new tab and give you the option to cast the video similar to if you were watching it right on YouTube.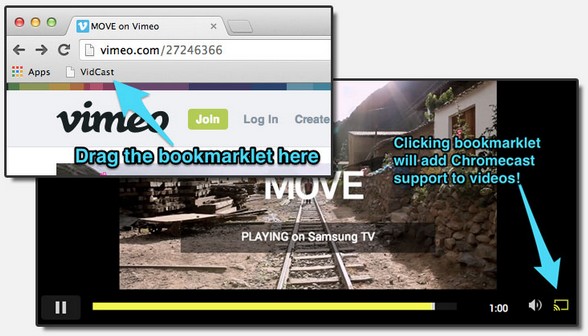 2 – Use Videostream to watch videos from your PC on your Chromecast
I'm not going to expand on this too much as I have already written a post on how to use this Chrome App.  For those who don't know, the Videostream Chrome Extension will allow you to watch any video stored on your local PC on your Chromecast all in full HD.  Of course that is if your network can handle it.  Check out this post on how to setup and use Videostream.

3 - Cast your entire desktop to your Chromecast (not just the tab)
I'm sure the main reason that you downloaded the Chromecast Extension was to cast a browser tab to your Chromecast.  Google has sneakily hidden the option to cast your entire desktop right form the Chromecast Extension.  Of course this feature is experimental.  To cast your desktop, simply click on the Chromecast Extension in Chrome and click the little down arrow in the upper right corner.  You will see the option to Cast entire screen (experimental).
4 - Cast your Google Drive presentations to Chromecast
Ok I know that this might not be the coolest thing you can do, but it is cool if you actually create presentations in Google Drive.  To cast your presentation, simply open it up in Google Drive.  Once the presentation is open, click the drop down arrow next to Present in the upper right corner.  Hover over Present on another device and choose your Chromecast.

5 - Play Google Music, Movies and YouTube on your TV from your PC.
Just like on your Android phone or iPhone phone, you can cast any of Google's services that you use to your Chromecast.  Simply browse to YouTube, Google Music, or the Play store and start playing a song or a video.  Simply click on the Google Cast logo to start casting!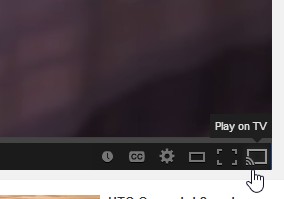 That's all!  If you have any recommendations, please leave a comment below.