Free Chromecast Rewards
Did you know that if you have a Chromecast, you are eligible to receive free stuff from Google? Everybody loves something for free right? If you have the Chromecast extension installed on your PC, it's as simple as clicking here to select your free reward.  If you don't have the Chromecast extension installed, you will need to download it from the Chrome Store here.  Once you are on the reward site, you will be asked to select your Chromecast from the Chromecast extension.  Once selected, you will be able to redeem an offer.  As of right now, the following offers are available.
Free $6 in Google play credit
EPIX free trial
Free copy of X-Men
3 months of DramaFever
90 days of unlimited music from Google Play
If you don't want to download the Chromecast extension or you are not at a PC, you can simply redeem the reward right from your Android phone.  Follow the steps below to redeem an offer.
Step 1 – Open the Chromecast App
On your phone, open up the Chromecast App.  If you don't have the app installed, you can get it from here.

Step 2 – Connect to your Chromecast
Simply choose the Chromecast device that you want to connect to.  Once connected, the Chromecast settings screen will be displayed on your phone or tablet.
Step 3 – Check for offers
On the Chromecast settings page, click the three little dots in the upper right hand corner.  You will then have the option to check for offers.  Keep in mind that you will need to transmit your Chromecast's serial number to Google.
Step 4 – Redeem your offer
Once you click check for offers in the step 3, your phone or tablet's web browser will open up to the offers page.  All you need to do now is click on redeem for the offer that you would like to claim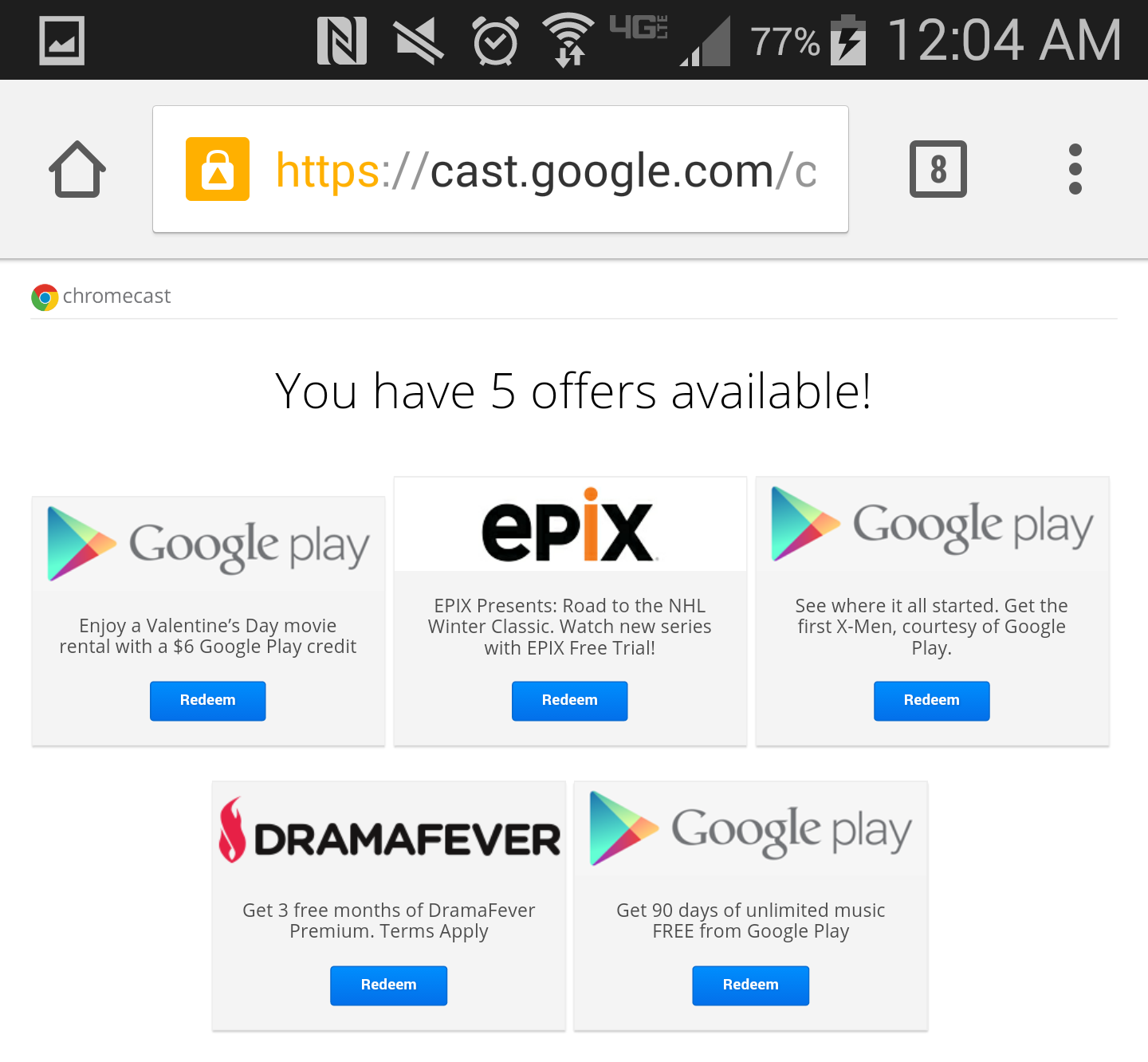 And that's it!  Keep in mind that you can redeem an offer for each Chromecast that you own.  Any questions, leave a comment below.